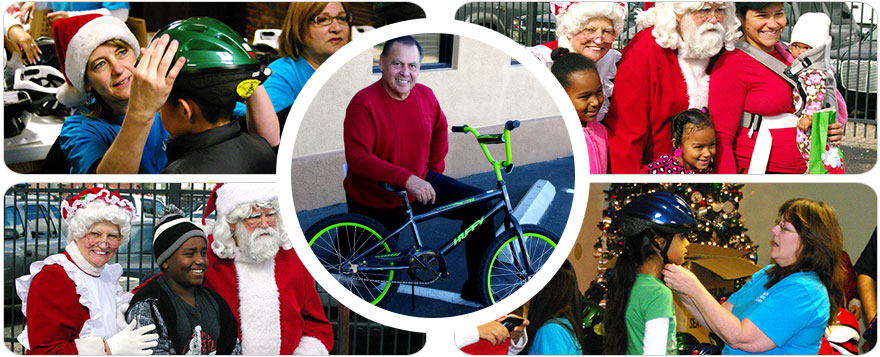 Providing Bikes to Under-Privileged Children
Lugo Charities Inc. and the Benevolent and Protective Order of Elks Lodge 385 is pleased to announce that it will be hosting the 12th Annual "Bike In A Box" Christmas event on Saturday, December 5, 2020 from 10:00 am to 11:00 pm at the Elk's Lodge 385 that is located at 1800 North Oracle Road.
A special invitation to 500 under-privileged children selected from youth organizations, schools, churches, and children-support agencies in the Greater Tucson area will be attending this special day of giving as Santa and Mrs. Claus will welcome the children. Each child that has been pre-selected will receive one of five-hundred (500) bicycles that we are planning to give away. This year because of the Coronavirus (COVID-19) pandemic, we will distribute the bicycles with "Pick Up & Go" vehicle program. The bicycles will remain in the box so that the parents or guardians can, together with the child, assemble the bicycle in promoting the true Christmas spirit and teaching the children the basic assembly and adjustments to their new bike.
About Lugo Charities
Lugo Charities Inc. dba Bike In A Box is a 501(c)(3) non-profit organization as contributions are tax-deductible as bequests, devises, transfers or gifts. Please click on the donation link as we would appreciate your support to make this a successful event to many children in need.
Corporate Sponsors
"Wake Up! Tucson"
Chris DeSimone
Monday thru Friday
6 am to 9 am
Call In: 790-2040